Improvement

Minor

PHP 5.6.26, MySQL 5.7.18, Firefox 54.0
Go to:
Login => ACP => Login => Customise => Manage Extensions => Re-Check all versions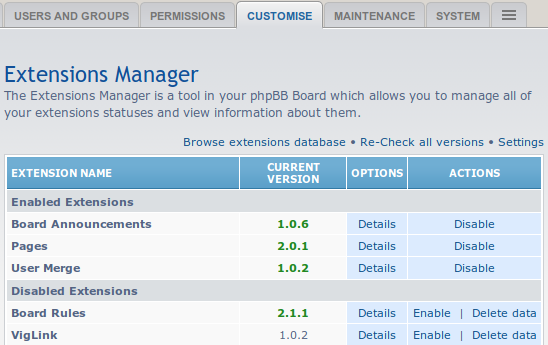 The "CURRENT VERSION" column highlights versions in what I'm guessing is red and green - but it doesn't display/assign any alt/hover text or icons/punctuation next to the version numbers, meaning that a red/green colour blind person (such as myself) can't figure out what the system is trying to tell them. Inspecting the element only shows a hex colour-code.
My suggestion would be that hovering provide a "Up to date" or "Expired" tooltip...
Alternatively, an icon or punctuation next to the version number (such as

,

... vs. a

, 

or

). This would also assist with other vision impairments as presumably such symbols would have alt text, or be unitext with a defined and pronounceable meaning.
duplicates

PHPBB3-14677 Extension update check is not very colorblind / colourblind friendly.

Unverified Fix